Cutts Close (Oakham)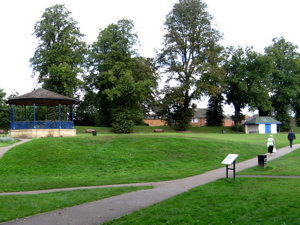 Cutts Close is a public green area close to the town centre of Oakham in Rutland.
It has a bandstand, a children's play area and lots of humps and bumps.
It's these humps and bumps that give a clue to its origins. This area was formerly the fish ponds for nearby Oakham Castle, just the other side of the wall.
In mediaeval times, most communities such as castles, abbeys and priories had fish ponds, giving a constant supply of fresh food.
Also nearby are All Saints Church and Oakham School.