All Saints Church (Oakham)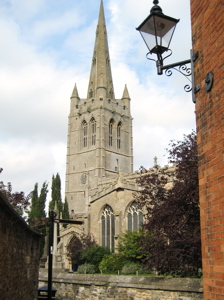 All Saints is the large parish church of Oakham, the county town of Rutland.
The tower, with its soaring spire, is unquestionably the main visual landmark, both within the town and when seen from the surrounding countryside. It dates from the 14th century.
The oldest parts of the church are the South doorway and the South porch, both of which are 13th century.
In the nave, there are carved capitals, depicting such scenes as the expulsion from the Garden of Eden, the Annunciation and a fox preaching to geese.
The font is from the early 13th century.
From some angles, there appears to be an extension to All Saints, but this is actually across a path, and is the chapel of Oakham School.