Oakham Castle (Oakham)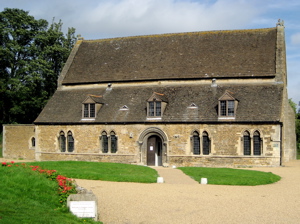 Oakham Castle is in the centre of Oakham, the county town of Rutland, down a lane leading off the Market Place.
Originally a timber castle built just after the Norman Conquest, it was rebuilt in stone in the 12th century.
The only building to survive is the Great Hall, which has a rare aisled and bay divided interior, like a church. There are superb Norman carvings of monarchs, animals and musicians. It has been demonstrated that the stonemasons here had also worked on Canterbury Cathedral.
The most spectacular and bizarre of Oakham Castle's possessions is the collection of giant horseshoes, presented by visiting peers of the realm. The oldest was given by Edward IV in about 1470, the largest by George IV when he was Prince of Wales and the most recent by Princess Anne, the Princess Royal.
The gateway is from the 13th century, but improved by the notorious George Villiers, Duke of Buckingham, in 1621.
Some of the castle wall remains, as well as the motte in a corner of the grounds. Humps and bumps in a public park indicate the site of fishponds.