Oakham School (Oakham)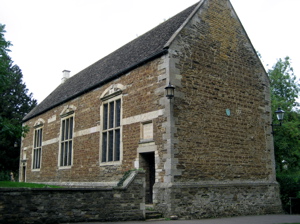 Oakham School is a well respected public school in Oakham, the county town of Rutland.
The school was founded in 1584 by Archdeacon Robert Johnson, who also founded Uppingham School in the same year.
As at Uppingham, the original school building, of the glowing local ironstone, still stands, in the churchyard. Over the door are the words "Schola Latina - Graeca - Hebraica Ao 1584", giving a good idea of the subjects originally taught.
There were a few buildings added between the 17th and 19th centuries, but most date only from the early 20th century.
Some of the school buildings are situated around the Market Place, and there are others a short walk away around the former Canal Basin.
The Gothic Chapel was built in 1924 - 25, and is close to All Saints Church.
Oakham School has a fine sporting tradition, and hosts one of Leicestershire's first class cricket matches annually. An old boy of the school is the outstanding young cricketer Stuart Broad.