Royal Terrace (Southend)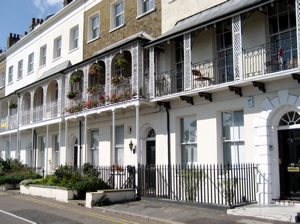 Royal Terrace is a pretty Georgian terrace overlooking the Seafront at the Essex resort of Southend.
It is one of a number of locations in the area using the "Royal" name. At the end of the Terrace, on the corner of the High Street, is the Royal Hotel, and Pier Hill, which drops down to the Seafront, was originally known as Royal Hill.
Caroline, Princess of Wales, brought her daughter Charlotte to Southend for health reasons, setting a fashion for visiting the town.
Royal Terrace leads from the High Street towards Cliff Town, with its Queen Victoria Statue and charming Prittlewell Square.
The whole area is part of the conservation area which led to the formation of the South End Conservation Area Society, now known as the Southend Society, in the 1970s. Blue Badge Guide Colin Crosby was one of the founder members.