Royal Hotel (Southend)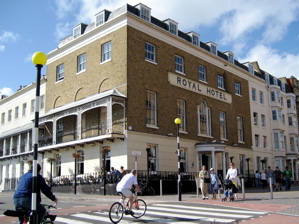 The Royal Hotel in Southend is at the bottom of the High Street, overlooking Pier Hill. It stands at the corner of the busy pedestrianised High Street and Royal Terrace.
It was one of the first buildings to be constructed when Southend was achieving its late 18th century status as a fashionable watering place, in the wake of the visit by Princess Caroline, Princess of Wales, who brought her daughter Charlotte to the town to improve her health.
Royal Terrace has buildings on one side only, abutting the Royal Hotel. The other side is taken up by the Shrubbery, a lovely wooded area which in former times was illuminated with set pieces in the Autumn as the much-loved Never Never Land.
The Royal was under threat of demolition in the 1970s, but was saved by a wave of public opinion, to which Sir John Betjeman, the Poet Laureate and lover of Southend, led his valuable support.
Opposite the Royal Hotel in the High Street is the Royals, and indoor shopping centre, and at the bottom of Pier Hill, approachable now by a lift which is itself a tourist attraction, is Southend's celebrated Pier, the longest in the world.