Prittlewell Square (Southend)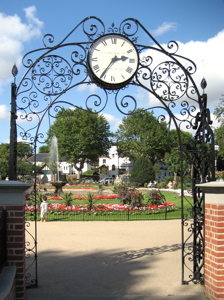 Prittlewell Square is a very attractive garden area in the Essex resort of Southend.
After Caroline, Princess of Wales, brought her daughter Charlotte to Southend at the beginning of the 19th century to aid her health, the little town at the South end of Prittlewell became the resort of well heeled people.
In particular, New Southend began to develop to the West of the Royal Hotel and what is now the High Street. New Southend is now known as Cliff Town.
Prittlewell Square overlooks the estuary of the River Thames, with splendid views cross to Kent.
The flower displays are excellent. Southend's Parks Department hs always been outstanding.
A clock over the entrance nearest to the cliffs was donated by R. A. Jones, a prominent Southend jeweller who bought Prittlewell Priory and its grounds and donated them to the people of Southend as Priory Park.