Eastern Esplanade (Southend)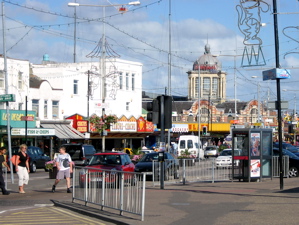 Eastern Esplanade is the "Golden Mile" of the very popular Essex resort of Southend.
As well as the actual Sea Front, there are amusement arcades galore, as well as lots of opportunities to buy ice cream, candy floss and fish and chips.
Along Eastern Esplanade is the Sea Life Centre, and the area is still dominated by the famous dome of the Kursaal.
A plaque on the sea wall commemorates the Rev. George Wood, remembered by thousands of Londoners as "Happy Harry", who preached the gospel to crowds at Southend and at Tower Hill in London.