Kursaal (Southend)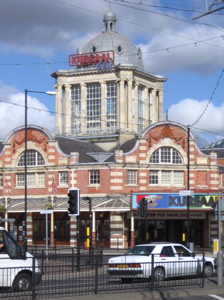 The Kursaal was one of the major attractions in the seaside town of Southend, in Essex.
Today, the Kursaal is only a ghost of its former self, but its entrance is still visible along the seafront.
The Kursaal was a vast amusement park, and was actually the world's first theme park. The only one that rivalled it for size and fame was Dreamland at Margate.
In the years after the Second World War, Southend was a very popular destination indeed, for visitors from all over England, but especially for families and groups from the East End of London, only 40 miles away.
The chief attractions were Southend Pier, the fabulous Illuminations, the beach and the Kursaal.
At its peak, the Kursaal had two roller coasters, named the Scenic Railway and the Cyclone, which was a bigger and scarier version. There were lots of other rides, including a Water Chute, two Ghost Trains (one of whih was named "Laff in the Dark", and on a much gentler note The Caves.
The Wall of Death was particularly popular. Motorcyclists, including the famous Yvonne Stagg, rode at great speed around the inside of a tower while people watched from above.
There was also a dance hall, and at one time Southend United played football at the Kursaal.
There was a big dome at the entrance, allowing the marketing slogan "By the Dome It's Known".
An episode of "The Prisoner", starring Patyrick McGoohan, was shot at the Kursaal, and featured among other highlights the manic and rather disturbing Laughing Sailor.
The Kursaal management built what purported to be a Wild West style locomotive, which was mounted onto a lorry, and under the name "The Kursaal Flyer" took part in many a Carnival procession.
In turn, that name was used by the Southend group the Kursaal Flyers, who had a hit record in the 1970s with "Little Does She Know".
Today, most of the Kursaal site is covered by housing, but the dome is still there, and the entrance hall has been reopened, containing bars and snooker halls.