Bull Ring (Shepshed)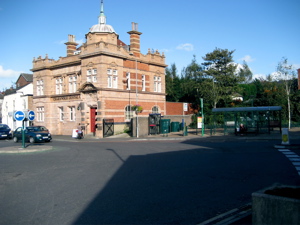 The Bull Ring is one of the twin town centres in the Leicestershire market town of Shepshed, on the edge of Charnwood Forest. The other centre is the old Market Place.
The name derives from the pastime, popular in the district in earlier centuries, of baiting bulls here.
A handsome building at the Bull Ring is now used as a dentist's surgery. It was built, however, as a bank. Built for a regional banking company in 1903, it is the result of a mistake. Two new banks were being built at the same time, the other being in Derby. The plans got mixed up, and the small building destined for Shepshed ended up at Derby, while the magnificent one designed for Derby found its way to Shepshed.
Beside the former bank is a small open space, containing a bus shelter. It is here that some of Colin Crosby's Guided Walks start.