Shepshed (A Guided Walk in Shepshed)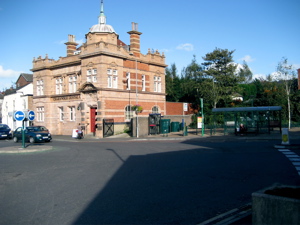 "Shepshed" is a Guided Walk devised and led by Colin Crosby, of Colin Crosby Heritage Tours, the Blue Badge Guide whose programme continues throughout the year.
These strolls are an excellent way of soaking up some Local History.
The walk starts at the Bull Ring in Shepshed, beside the bus shelter.
Colin points out many features of this ancient town in Charnwood Forest, which was mentioned in the Domesday Book of 1086.
He comments on the unusual nature of the town in that there are two focal points, one being the Bull Ring and the other being the old Market Place.
During the walk, it becomes apparent that there are a surprising number of picturesque houses in Shepshed, a good number of which are thatched.
Dates, costs and where to meet
A place on 'Shepshed' costs £4.00 per person, or £3.00 if paying in advance. The guided walk begins at Bull Ring, and is running on:
I'm sorry, but there are no plans to run this event at present.
If you would like to book a place on one of these dates, please telephone Colin on (0116) 2611576 or email him at colin@crosbyheritage.co.uk.