Fearon Fountain (Loughborough)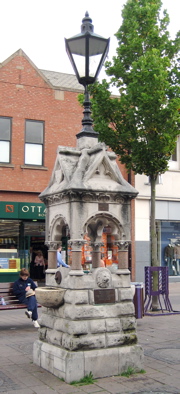 The Fearon Fountain stands in the middle of the Market Place in the thriving Leicestershire town of Loughborough.
It marks the spot where Archdeacon Fearon brought the first piped water to Loughborough town centre in the 19th century.
He was a well loved man, and certainly used his prominence for the public good. An Archdeacon is next step down from Bishop.
Around the fountain are now some seats, so it is still of use today. The fountain is now dry, but Charnwood Borough Council have been discussing the possibilty of creating a proper water feature again.
A church hall near All Saints Church is named the Fearon Hall.
The Fearon Fountain is used as the starting point for many of Blue Badge Guide Colin Crosby's Guided Walks in Loughborough.