All Saints Church (Loughborough)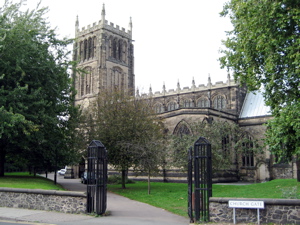 All Saints is the parish church of the busy Leicestershire market town of Loughborough.
It stands in Church Gate, in the oldest part of the town, a little away from the present centre around the Market Place.
All Saints is a large and impressive church, built of the local Forest stone. It dates back to the 14th century.
The tower is a particularly impressive one, and the church has aisles and transepts. At the East end of the chancel there is a blocked priest's door.
There are14th century piscinas, and the octagonal font is Elizabethan.
John Cleveland, the Restoration poet, was son of the Rector here.
George Davys, born cross the road, was tutor to the young Princess Victoria.