Market Place (Loughborough)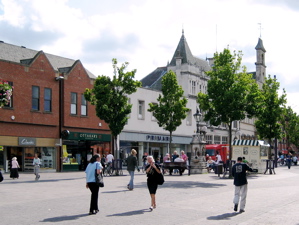 Loughborough Market Place is right in the centre of Loughborough, a thriving market town, industrial town and university town.
A few years ago the area was pedestrianised, which of course makes it much easier to negotiate on foot when the market itself is not in operation.
The market, one of the busiest in the Midlands, is held twice a week, on Thursdays and Saturdays.
In addition, there is an annual fair, with rides and fast food, held over three days each November, which unusually is held in the Market Place and the surrounding streets.
The charters for the market and the fair both date from the early Middle Ages.
Loughborough High Street, the main road from both Leicester and Derby, runs past, but not through, the Market Place.
There are plenty of High Street stores around the Market Place, in addition to the Town Hall, built as a Corn Exchange in the mid 19th century.
At one end of the market is The Sock, a whimsical statue by Shona Kinloch, illustrating Loughborough's heritage as a hosiery making centre.
And in the middle of the open space is the Fearon Fountain, commemmorating the spot where Archdeacon Fearon brought the first piped water to the town. It is at the Fearon Fountain that Guided Walks start.