Carillon (Loughborough)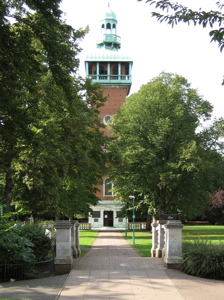 The Carillon is one of the most notable features of the Leicestershire market town of Loughborough.
It stands in the lovely Queens Park, not far from the bustling Market Place.
A carillon is a musical instrument, played on a keyboard like a piano or organ. The sound, however, is the beautiful sound of bells, not played in peals but playing recognisable tunes.
The instrument was made by the John Taylor Bell Foundry, whose premises are in Loughborough. It is one of only two bell foundries left in this country, the other being at Whitechapel in London.
The carillon is housed in a brick tower which is very much a local landmark. It is instantly recognisable with its green copper belvedere at the top.
The Carillon Tower was the first to be built in Britain, and is the only one in the country to be erected as a War Memorial.
It was opened in 1923, to honour local men who were killed in the First World War. Sir Edward Elgar wrote a piece of music for the occasion.
The building houses a small military display, and is sometimes open to the public. The total height is 151 feet, a considerable climb.
There are 47 bells, and it is a unique experience to hear the music - hymns, nursery rhymes, Gilbert and Sullivan, Beatles songs, songs from the shows etc - wafting across the town.