Queens Park (Loughborough)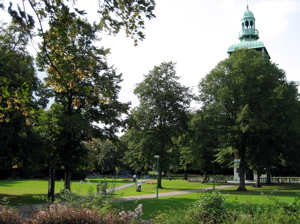 Queens Park is a particularly attractive park in the Leicestershire market town of Loughborough.
It was originally the large garden of Island House, a private house where Granby Street now runs, Loughborough's Public Library is built on the site of the house.
Queens Park has children's playing areas, and a grassy area where garden parties and the like are sometimes held.
There is also a bowling green.
The best known feature of the park is the Carillon. This is a musical instrument, producing tunes with the sound of bells, played like a piano or organ on a keyboard. It was made by the John Taylor Bellfoundry in the town, one of only two such foundries still operating in England, the other being at Whitechapel in London.
The Carillon is housed in a distinctive tower, which was built in the early 1920s. It is the only Carillon in this country which is a War Memorial.
Music of a different kind can be played in the Bandstand. This was built to celebrate the Coronation of King Edward VII and Queen Alexandra in 1902.
There is an aviary in the park, with a popular collection of birds.
The former indoor swimming baths, later known as Queens Hall, is now the town museum, and the building also contains a cafe.