St. Marys Church (Stamford)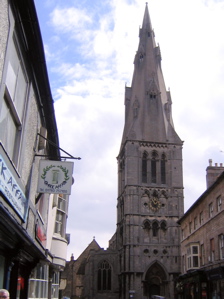 St. Mary's is one of the five medieval churches still functioning in the Lincolnshire town of Stamford, one of the showplaces of England.
It was formerly known as St. Mary at the Bridge, to distinguish it from another St. Mary's which once existed in the town.
The church was built in the 13th century, and has a massive Early Gothic tower, surmounted by a broach spire.
The nave has Perpendicular arcades, and the North chapel ceiling is also in this style.
The 15th century chapel belonged to the Guild of Corpus Christi. During the Middle Ages it was the scene of an annual Mystery Play.
The tomb of Sir David Phillips is outstanding. He was a Welsh knight, who fought alongside Henry Tudor in 1485 against Richard III at the Battle of Bosworth, which took place outside the exquisite little town of Market Bosworth.
J. D. Sedding designed a new set of furnishings in 1890, in the Arts and Crafts style.
In the North chapel is a superb Madonna, crafted in the 14th century, which had the distinction of being featured in an exhibition at the Royal Academy in 1987.