St. Mary and St. Augustine's Church (Stamford)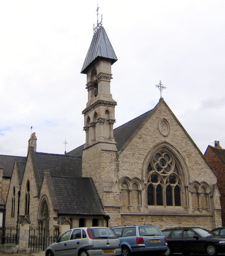 St. Mary and St. Augustine's is the Catholic church serving Stamford, one of the outstanding towns of England.
This little church is situated in Broad Street, opposite the Stamford Museum and a short way along the street from the extraordinary Brownes Hospital.
It has a slim tower containing a bellcote, surmounted by a decidedly top heavy cover, somewhat reminiscent of a pyramid.
The church was built in 1864, and designed by G. Goldie.