Stamford Museum (Stamford)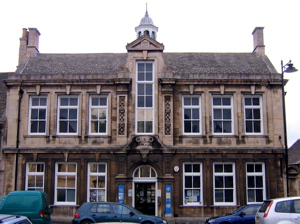 Stamford Museum gives a fascinating overview of the history of the beautiful stone town of Stamford in Lincolnshire.
The building itself was originally the town's School of Art.
The museum itself is on the first floor, and although not huge in size it has an excellent collection of exhibits about the town's history, including details of the many churches which survive, and others which existed in the Middle Ages.
The most popular exhibit is undoubtedly the feature on Daniel Lambert, the 54 stone man from Leicester who died and was buried at Stamford.
On the ground floor is a gallery which houses temporary exhibitions, as well as a gift shop and the Stamford Tapestry.