St. John's Church (Stamford)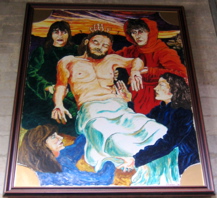 St. John the Baptist is one of the five surviving mediaeval churches in the outstanding town of Stamford.
It stands on the corner of the High Street and Red Lion Square, in the centre of the town.
Like St. Martins Church, St. Marys Church and All Saints Church, St. John's is situated beside the old Great North Road, which followed a tortuous course through the centre of Stamford.
St. John's is an outstanding Perpendicular church. There is a fine collection of 15th century winged angels on the ceiling of the nave. The angels in the chancel had their wings clipped off in 1623.
The font is 14th century, and the altar frontal dates from 1718.
The pulpit is modern, being constructed in 1953.
The famous conductor Sir Malcolm Sargent was a chorister at St. John's. As a young man, he was choirmaster and organist at Melton Mowbray.