George Hotel (Stamford)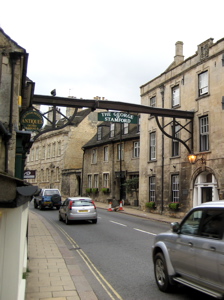 The George Hotel is a famous old coaching inn in the outstanding old town of Stamford in Lincolnshire.
It is on the site of a mediaeval hospital run by the Knights of St. John, and is nearly opposite St. Martins Church.
The George has a rare gallows sign stretching across High Street St. Martins, which for many years functioned as the Great North Road.
The view across the River Welland, including St. Marys Church, was said by Sir Walter Scott to be the finest view between London and Edinburgh, and the same view was painted by Turner in a thunderstorm.
The George is today much respected hotel.