Victoria Circus (Southend)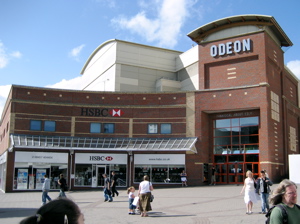 Victoria Circus is an extensive pedestrianised open space in the centre of the large Essex seaside town of Southend.
It was originally a town centre roundabout, as the name implies. To the West, London Road led to Westcliff and Leigh; to the North, Victoria Avenue led to Prittlewell and Rochford; to the East, Southchurch Road led to Great Wakering and Shoeburyness; and to the South, the High Street led to the seafront and Southend Pier.
On the North West was the Technical College; on the North East a collection of arcades, reminiscent of the indoor market at Oxford; on the South East the Victoria Hotel and beside it the Gaumont Cinema; and on the South West Dixon's department store.
Everything is changed now. Respectively, there are now the Odeon Cinemas; the Victoria Plaza, an early semi-indoor shopping centre built in the mid 60s; shops; and W.H.Smith in the old Dixon's building.
All around the circus were formerly bus and trolley bus stops, and in the middle of the roundabout were underground toilets.
Today, Victoria Circus is still the focal point of the busy shopping area which extends down the High Street, and there is an effective modern digital version of a Clock Tower.
Victoria Circus is used as the starting point for some of Colin Crosby's Guided Walks. Those wishing to take part should assemble outside the Odeon.
Victoria Circus (Southend) is the starting point for...