Old Southend (A Guided Walk in Southend)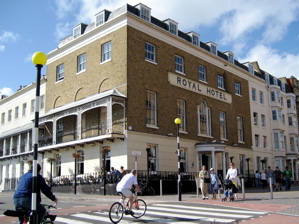 "Old Southend" is a Guided Walk devised and led by Blue Badge Guide Colin Crosby, of Colin Crosby Heritage Tours, who now lives in Leicester but was born in Rochford and spent many years living in the Southend area.
These strolls are a most enjoyable way of soaking up some Local History.
Colin led this walk as part of Sea Britain 2005, celebrating the 200th anniversary of Nelson's great victory at the Battle of Trafalgar.
Southend is now a major shopping and commercial centre, the largest town in Essex, but was originally a tiny fishing village at the mouth of the River Thames. The name "Southend" comes from it being the south end of the ancient village of Prittlewell.
The walk starts outside the Royal Hotel, at the bottom of Southend High Street, overlooking Pier Hill.
The route of the walk leads through the charming suburb of Cliff Town, and along the seafront to the Kursaal, before returning to the High Street.
Southend Pier is the longest in the world. It is a mile and a quarter straight out, while the extension around the corner at the end increases it to a mile and a third. Unusually, there are trains running the length of the pier. Many visitors walk to the Pier Head and ride back. There is a small museum on the landward end of the Pier.
Southend, well-known for its spectacular illuminations which drew so many visitors from London in the post-war years, first achieved prosperity in the early 19th century, when Princess Caroline, the Princess of Wales, brought her daughter, Princess Charlotte, to the town for health reasons.
Southend was much loved by Sir John Betjeman, who declared that the air was like wine.
Colin also leads walks locally in Leigh, Rochford, Prittlewell, Rayleigh and Maldon.
Dates, costs and where to meet
A place on 'Old Southend' costs £6.00 per person, or £5.00 if paying in advance. The guided walk begins at Royal Hotel, and is running on:
I'm sorry, but there are no plans to run this event at present.
If you would like to book a place on one of these dates, please telephone Colin on (0116) 2611576 or email him at colin@crosbyheritage.co.uk.