Stamford Road Gardens (Oakham)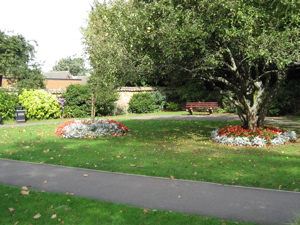 The Stamford Road Gardens are situated on a street corner near the centre of Oakham, the charming little county town of Rutland.
The gardens are at the back of the Public Library, which in the 1990s became the starting point for a number of long distance footpaths as well as Guided Walks.
In a corner of the gardens can be found a country survival, in the form of a cob wall. These are quite rare, but there are at least three examples in Oakham.