Public Library (Oakham)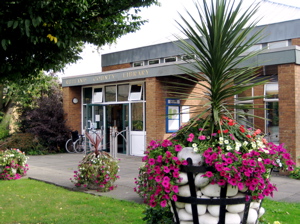 The Public Library in Oakham is situated on the edge of the Town Centre, just past the end of the High Street, and a little before the road splits in two, with the left hand road following the North side of Rutland Water and the right hand road going along the South side.
It is an attractive modern building serving this little town which is the county town of the tiny county of Rutland.
The Library is the starting point for a number of long distance footpaths.
Outside the Library is a small garden area with the Beacon basket, now used for flower displays.
The only other town in Rutland, Uppingham, also has a Library.
The Library in Oakham is used as starting point for Colin Crosby's Guided Walks in the town.