Flores House (Oakham)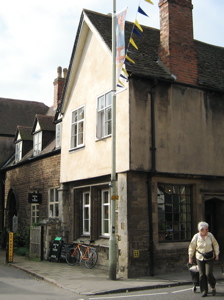 Flore's House is an important mediaeval domestic building in Oakham, the county town of Rutland.
It is situated in the High Street and at right angles to the street, which narrowed at this point to give the town more security.
The house was built in the 14th century by William Flore, controller of works at Oakham Castle, and also occupied by his son Roger Flore, a wealthy wool merchant and lawyer who became Speaker of the House of Commons and died in 1427.
Flore's House is built of stone, and just inside the door is a piscina.
Part of the house is now occupied by a shop, while the High Street frontage now contains a restaurant. The shop premises were formerly the Tourist Information Centre.