St. Peters Church (Market Bosworth)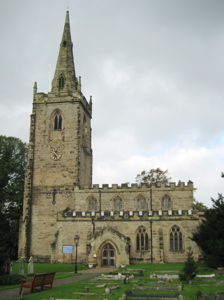 St. Peter's is the parish church of the delightful little Leicestershire market town of Market Bosworth.
It has a fine tower, and much of the building dates from the 14th century. The building style is largely Perpendicular, but with some Decorated.
The font is early 14th century, but its base is believed to be 13th century.
St. Peter's, although close to the centre of the town, is beside Market Bosworth Hall, home for many years of the Dixie family, hugely influential in local matters.
In the churchyard is buried Dr. Pull, who apparently dropped dead in the Market Place one day and was quickly interred, but discovered when it was too late to have been buried alive.
St. Peter's is still open for worship, and is open to visitors at all reasonable times.