Bosworth Battlefield (Market Bosworth)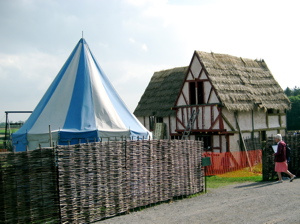 Bosworth Battlefield is just outside the attractive market town of Market Bosworth in Leicestershire.
It was here that the Battle of Bosworth, one of the most crucial battles in English history, took place in 1485. Richard III, the popular 32-year-old King whose character was so shamelessly assassinated after his death by William Shakespeare and Thomas More, fell in battle here, and the victor, Henry Tudor, took the crown as Henry VII.
Richard was the last King of England to be killed in battle, and the battle marked the coming to power of the spectacularly successful Tudor dynasty.
After the battle, Richard's body was taken back to Leicester and buried at the Greyfriars.
The Battlefield site has an impressive Visitor Centre, with a good deal of interpretation about the battle.
Banners flying in the breeze can be seen on the hillside from afar, marking the positions of the armies.
There is also an excellent tea room, and school parties learn quickly by being involved in fun reanactments.