Market Place (Lutterworth)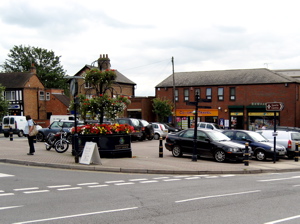 The Market Place is at the centre of the Leicestershire market town of Lutterworth.
It is situated in the centre of the town, at the top of the High Street. It is still used for the market, but many visitors assume it is just a car park, as cars are parked there on non-market days.
On the South West corner, where the High Street starts dropping downhill to the River Swift, is the Town Hall.
On the North East is a16th century timber framed and thatched building, which now houses the Shambles public house.
Opposite the Market Place on the West, a street leads to St. Marys Church.
Leading Eastwards from the Market Place is a street leading to the site of Lutterworth Station, on the Great Central Railway.