Town Hall (Lutterworth)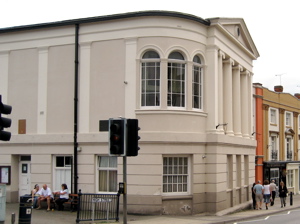 The Town Hall in the Leicestershire market town of Lutterworth stands at the top of the High Street, which leads down to the River Swift.
It was built in 1836 in a classical style by the well known architect Joseph Aloysius Hansom, who at the time was living at Hinckley.
Hansom is best known for the invention of the Hansom cab, but achieved fame during his lifetime as an architect. Two prominent buildings in Leicester, the Pork Pie Chapel and New Walk Museum, were Hansom's work, and so was Birmingham Town Hall.
Lutterworth Town Hall is the starting point for Blue Badge Guide Colin Crosby's Guided Walks in the town.
Town Hall (Lutterworth) is the starting point for...