The Sock Statue (Loughborough)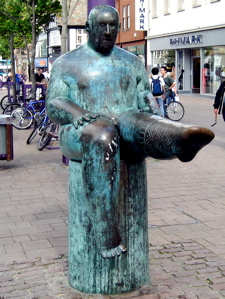 The Sock is a statue in the town centre of Loughborough in Leicestershire.
It can be found in the Market Place of this thriving market town, outside the Town Hall.
The Sock was created by the sculptress Shona Kinloch, having been commissioned by Charnwood Borough Council "to provide an attractive feature and focus of public interest". It was unveiled in 1998.
The statue is of a man seated on a bollard, wearing only a sycamore leaf and a sock, which he is looking down at admiringly.
His sock is symbolic of Loughborough's hosiery industry, and the rest of the sculpture contains images from the town's history.
As is not unusual in these cases, The Sock was far from universally admired when unveiled but, as predicted, hearts have warmed to it and it is now a well loved feature of the Loughborough scene.