Looking Up in Loughborough (A Guided Walk in Loughborough)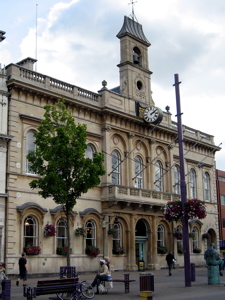 "Looking Up in Loughborough" is a Guided Walk around the thriving market town of Loughborough devised and led by the Blue Badge Guide Colin Crosby, of Colin Crosby Heritage Tours.
These walks are an enjoyable way of soaking up some Local History.
The walk starts at the Fearon Fountain, in the centre of the Market Place. The fountain marks the fresh water supply arranged in the 19th century by Archdeacon Fearon.
During the walk, Colin will be pointing out some of the sights to be seen above the town centre shops and offices. Although most towns of a decent size tend to have the same big shops, looking up shows that they are far from being all the same.
Other walks in the town include "Loughborough" and "Street Names of Loughborough".
Dates, costs and where to meet
A place on 'Looking Up in Loughborough' costs £4.00 per person, or £3.00 if paying in advance. The guided walk begins at Market Place, and is running on:
I'm sorry, but there are no plans to run this event at present.
If you would like to book a place on one of these dates, please telephone Colin on (0116) 2611576 or email him at colin@crosbyheritage.co.uk.