Church Gate (Loughborough)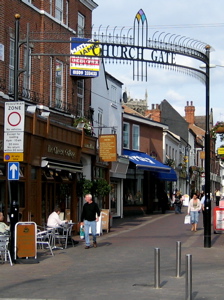 Church Gate is an attractive shopping street in the Leicestershire market town of Loughborough.
The streets named "Gate" in many East Midlands towns, including Leicester, Newark and Nottingham, have nothing to do with gates, but come from an old Danish word which simply meant "street". The whole region was under Danish control over a thousand years ago.
Church Gate simply means "the street leading to the Church", in this instance All Saints Church.
The street was the first in the Borough of Charnwood to be pedestrianised.