St. Lawrences Church (Lechlade)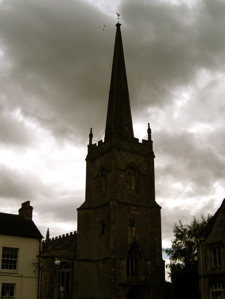 St. Lawrences is the parish church of the Gloucestershire town of Lechlade, on the River Thames.
The church and its churchyard stand at one corner of the Market Place, with an impressive tower.
It was largely rebuilt in the 1470s, on the site of a previous church, and the spire, roof of the nave, porch and clerestory were added early in the 16th century.
High up on the ceiling is an amazing collection of bosses and corbels. These feature such varied themes as wrestlers, angels and the Instruments of Jesus's Passion.
On the wal is a stone depiction of St. Agatha, the patron saint of women with breast cancer. She has a sword through her breasts, which in the Middle Ages was the only treatment available.
Percy Bysshe Shelley came here as the light was fading on a Summer night, and wrote a verse about the scene.