St. Georges Church (Stamford)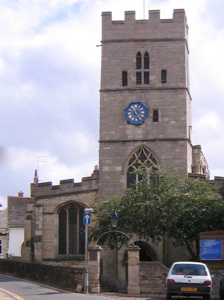 St. George's is one of the fine collection of mediaeval churches in the outstanding Lincolnshire town of Stamford.
It is situated in a quiet corner of the town away from the main streets, close to Stamford Arts Centre.
In 1449, Sir William de Bruges, the first Garter King of Arms, left money in his will for refashioning the chancel of the church, and also for commemorating the members of the Order of the Garter.
The resulting window, from pieces brought together in 1732, is the most impressive collection of heraldic glass in England.