All Saints Church (Stamford)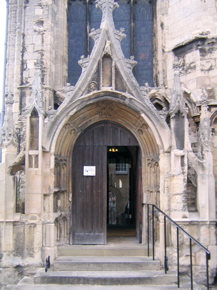 All Saints is one of several mediaeval churches in the outstanding Lincolnshire town of Stamford.
It stands at the edge of Red Lion Square, in the centre of the town, beside what for centuries was the Great North Road.
The South elevation, facing the square, has impressive Gothic blind arcading, and an excellent clerestory. There are two porches, and a fine tower.
After the Wars of the Roses had ended, William and John Browne, prominent local businessmen who are also merchants of the Staple of Calais, gave a great deal of money to All Saints, where their parents had been buried. They rebuilt much of the church.
It was William Browne who founded the outstanding Browne's Hospital in the town.
William Stukeley was the Rector of All Saints in the 18th century. It was Stukeley who was the first to make a serious study of both Stonehenge and Avebury, and he worked out the location of the long demolished Eleanor Cross at Stamford.