Butter Cross (Oakham)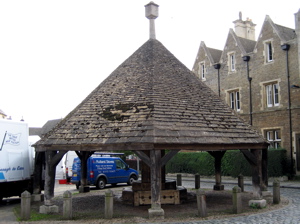 The Butter Cross is a very interesting old structure in Oakham, the county town of Rutland.
It is situated in the triangular part of the Market Place, which adjoins the part with a more regular shape.
It was built for the same purpose as the ornate stone market crosses at Chichester, Malmesbury and Salisbury, and the more utilitarian one closer to home at Mountsorrel. Market traders could shelter under it in inclement weather.
The Butter Cross was constructed in the 17th century, and consists of a large structure made from timber, around a stone pillar. The roof is of Collyweston slate.
Under cover are the stocks, containing five holes. This has always been a subject of some debate and considerable mirth. It has been suggested that there was room for two normal men and one with one leg, or alternatively that a forerunner of Jake the Peg formerly resided in Oakham.
In fact, none of these explanations are really necessary. Put one leg in one hole, and see how far you can get away.