Maison Dieu (Melton Mowbray)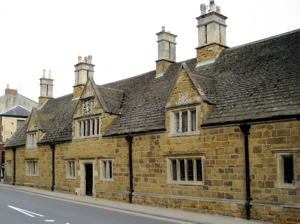 The Maison Dieu is a fine building in the centre of the bustling Leicestershire market town of Melton Mowbray.
Built of the local honey-coloured ironstone, it is a single storey house with added gables, and situated in Burton Street opposite the cathedral-sized St Marys Church.
It was founded by Robert Hudson in 1640 as almshouses, and is still lived in today.
Hudson's coat of arms can be seen on the side facing the street.
A set of steps across the road were constructed to allow residents easy access to the church.