The Hythe (Maldon)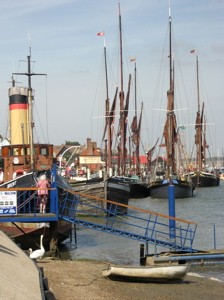 The Hythe is the lively waterfront area of the delightful Essex town of Maldon.
It is reached from the Town Centre by the High Street, with its many mediaeval buildings. Originally The Hythe was a separate settlement, as was nearby Fullbridge. Both have now become part of the larger town.
Although Maldon is a good many miles from the North Sea, there is a distinctly maritime air to the town, as it is at the head of the long estuary of the River Blackwater.
The Hythe has many boatyards and related small industries. In particular, there are a number of picturesque Thames barges moored here, and there is an annual barge race. These barges formerly brought cargo to and from London and the East coast along the River Thames. It is possible to have a Thames barge cruise along the estuary.
Also along The Hythe is Maldon's most famous industry. It is here that Maldon sea salt is produced and processed for sale in the country's better delicatessens.
The Hythe had its own parish church. This is the beautiful St. Mary's, which is still open for worship. It has a shingled spire on a weatherboarded base, and the oldest parts of the fabric are Saxon. The church was for a time used as a lighthouse.
Just downstream from The Hythe is the ever popular Promenade Park, and a walk along the sea wall leads to the site of the Battle of Maldon, where Ealdorman Britnoth fought valiantly against the Danish invaders in 991.