Market Place (Cirencester)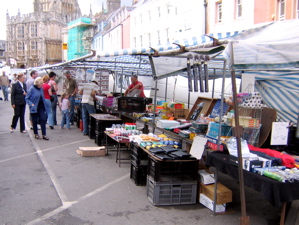 The Market Place in Cirencester, on the edge of the Cotswolds in Gloucestershire, has been an important centre for commerce for hundreds of years.
The town's main street widens at this point, to allow for the colourful market stalls.
The magnificent St. John the Baptist Church stands beside the Market Place, and opposite are the Kings Head Hotel and the Tourist Information Centre.
Ernest Gimson, the Leicester-born architect and furniture maker, had a workshop just off the Market Place.