Corinium Museum (Cirencester)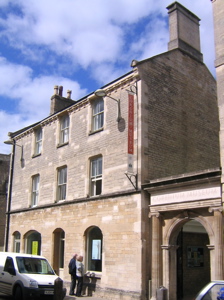 The Corinium Museum is in the attractive old Gloucestershire town of Cirencester, in the Cotswolds.
Cirencester was one of the most important towns in Roman Britain, and in its heyday was second only in population to London.
Its Roman name was Corinium, and it stood on the famous Fosse Way, linking it with Lincoln, Leicester and Exeter. Other roman roads leading from the town were the Ermine Way and Akeman Street.
There is a small section of the Roman town wall in a public park, and an impressive amphitheatre, now grassed over.
The Corinium Museum is housed in an elegant Georgian house, with a modern extension at the back.
In the view of Cirencester's history, a large proportion of the museum's exhibits are Roman, but the town's history in other periods is well covered too.
The static displays are excellent, and the museum bears comparison with the best town museums, such as those at Colchester and Canterbury.
There are also visiting exhibiions from time to time.