Cecily Hill (Cirencester)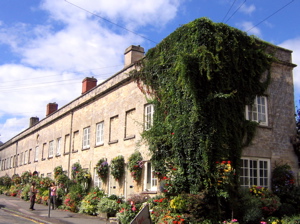 Cecily Hill is a pretty street in the charming Gloucestershire town of Cirencester.
It is named after a church dedicated to St. Cecilia which formerly stood in the vicinity.
It was originally the main street leading from Cirencester to Stroud, but is now a cul de sac. Its continuation is the Broad Walk, running through Lord Bathurst's Cirencester Park.
Near the top of the hill is a castellated 19th century building which was originally the barracks of a local regiment.
And at the bottom of the hill are the early 19th century Tontine Buildings. A tontine was an arrangement, now ilegal, whereby the surviving individual of a partnership became the sole owner.