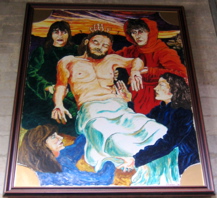 I led a private Guided Walk around historic Stamford recently.
I had been asked to do so by Stamford School, who were playing host to some students from France.
I was able to show them some of the historic and beautiful aspects of this lovely old town, which was England`s first ever Conservation Area.
They saw several mediaeval churches, the tranquil River Welland and the well tended grave of Daniel Lambert.
I`m always happy to lead Guided Walks in Stamford.
Posted by colin on Thursday 9th July, 2015 at 4:30pm