Historic Stamford (A Guided Walk in Stamford)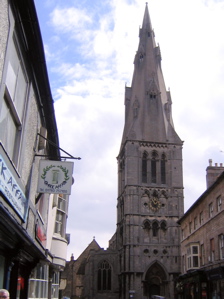 "Historic Stamford" is a Guided Walk devised and led by Blue Badge Guide Colin Crosby, of Colin Crosby Heritage Tours, around the outstanding Lincolnshire town of Stamford.
These strolls are an ideal way of soaking up some Local History.
Stamford is one of the finest towns in England, and in 1967 was designated the country`s first Conservation Area.
"Historic Stamford" starts in Red Lion Square, outside the HSBC Bank.
Along the way, Colin discusses key points in Stamford`s history, including the reason for the main street, which for centuries was the Great North Road, following such an extraordinary route.
He also speaks of well-known people associated with the town, including the conductor Sir Malcolm Sargent and the poet John Clare , and the period in the Middle Ages when Stamford was a university town.
There is also a chance to see the grave of Leicester-born Daniel Lambert in the churchyard of St. Martins Church, and the rare gallows sign of the George Hotel, not to mention the view painted by Turner and the view said by Walter Scott to be the finest between London and Edinburgh.
Dates, costs and where to meet
A place on 'Historic Stamford' costs £5.00 per person, or £4.00 if paying in advance. The guided walk begins at Red Lion Square, and is running on:
I'm sorry, but there are no plans to run this event at present.
If you would like to book a place on one of these dates, please telephone Colin on (0116) 2611576 or email him at colin@crosbyheritage.co.uk.