Avon Valley Tour (A Coach Trip in Warwickshire)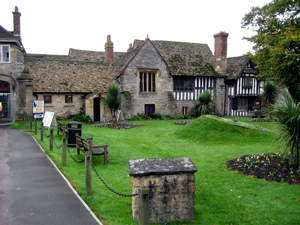 "Avon Valley Tour" is one of the many Coach Trips devised and led by Blue Badge Guide Colin Crosby, of Colin Crosby Heritage Tours.
These trips are a first rate way of picking up some Local History.
This tour is around the valley of the lovely River Avon. England actually has several rivers called the Avon, but this is the most famous one, widely known as Shakespeare`s Avon.
The river rises in Leicestershire, and flows through lovely countryside and outstanding towns before flowing into the River Severn.
The coach departs from St. Margarets Bus Station in Leicester at 8am, and is due back around 9pm.
Colin can be relied on to give his customary commentary along the way, bringing to life the fascinating and picturesque places and sights encountered on the route. This is one of the aspects of Colin`s trips that make them truly unique.
There are three stops, each of about an hour.
Warwick is a historic old market town, with the magnificent Warwick Castle overlooking the river.
Evesham, another delightful old market town, is where Simon de Montfort met his end in bloody battle.
Tewkesbury, dominated by the wonderful Tewkesbury Abbey, is where the Avon flows into the Severn.
Other towns along the route include Rugby, where the sport which bears its name originated; Leamington, an elegant spa town; Stratford-upon-Avon, where William Shakespeare was born; and Pershore, a genteel little town which had a famous abbey.
Dates, costs and where to meet
A place on 'Avon Valley Tour' costs £23.00 per person, or £23.00 if paying in advance. The coach trip begins at St. Margarets Bus Station, and is running on:
I'm sorry, but there are no plans to run this event at present.
If you would like to book a place on one of these dates, please telephone Colin on (0116) 2611576 or email him at colin@crosbyheritage.co.uk.